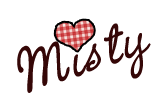 Today I am hardcore potty training and it is going very well. I did once go in to check on her and I guess she decided it was time she got a sticker. She found these little red stickers wtih letters on them and put about 10 on her nose, forehead an all down her arms and in a straight line from her thighs to her toes! It was hilarious.
Sorry I have no photos at the time. Our computer has a cold and somehow got virus! It wiped out EVERYTHING on there, EXCEPT the photos I had yet to move to the external hard drive.......WHEW! I hate losing all me email folders though, adoption folders, Maisyns flight folders, etc.

Thank goodness Madisyn to a new laptop for her birthday or I would go nuts! We don' t have wireless but there must be somewhere in our neck of the woods. Used to we could only get a signal outside....but I brought it to the dining room area on our kitchen talbe an PTL we had a signal and I am good to go!

You can only reach me via email at misty@walkbyfaith.com or fairytaleprincesses.blogspot.com We will not be using our insight account for email use any longer.

We are headed out of town this weekend to my cousins wedding. I am the photographer and we plan to have a wonderful time. My mom is going to keep my girls on Saturday night so Chris and I will have a night to ourselves to just talk, pray and probably be asleep by 10 pm!!! Seems like we just rarely see each other with his work schedule, me coaching and all Madisyn's games.

We won our volleyball game last night and the girls played awesome...what great teamwork! Madisyn did a great job....I am proud of all my players.....but especially her....cause she's still my BABY :-)) Tonight is a soccer game. Chris will be taking her...as I am going to be potty training....told ya...I plan to get this accomplished THIS week!!

Have a great weekend....be safe and enjoy it! Pic's will be posted when Madisyn and Chris get home and show me how on this computer!